What are SketchUp Plugins?
If you are here searching for SketchUp plugins, then you already appreciate how easy-to-use and versatile SketchUp can be when 3D modelling. Using the basic toolsets that SketchUp provides, it is possible to build detailed and complex 3D models for many different industries.
SketchUp plugins are tools that have been developed by members of the SketchUp community to add additional features or improve on the functionality of the native SketchUp toolset(s).
Why use do we need our Top 5 SketchUp plugins ?
Depending on the desired outcome, there is a strong possibility that there is a plugin out there which can complete a certain task for you quicker and more accurately than modelling something manually.
As a team of highly driven creatives, we are always looking for that 'next big thing', that improves the quality of our work and saves us time doing it.
This list is the product of an accumulation of over 30+ combined years across the team as professional SketchUp & V-Ray users, so take it from us – these plugins are bone-fide game-changers, and the work that we produce today is a testament to these incredible SketchUp plugins.
One of our most-used SketchUp plugins; V-Ray offers us the ability to render our 3D models.
SketchUp Plugin #1: Artisan
When you think topography, you should think Artisan.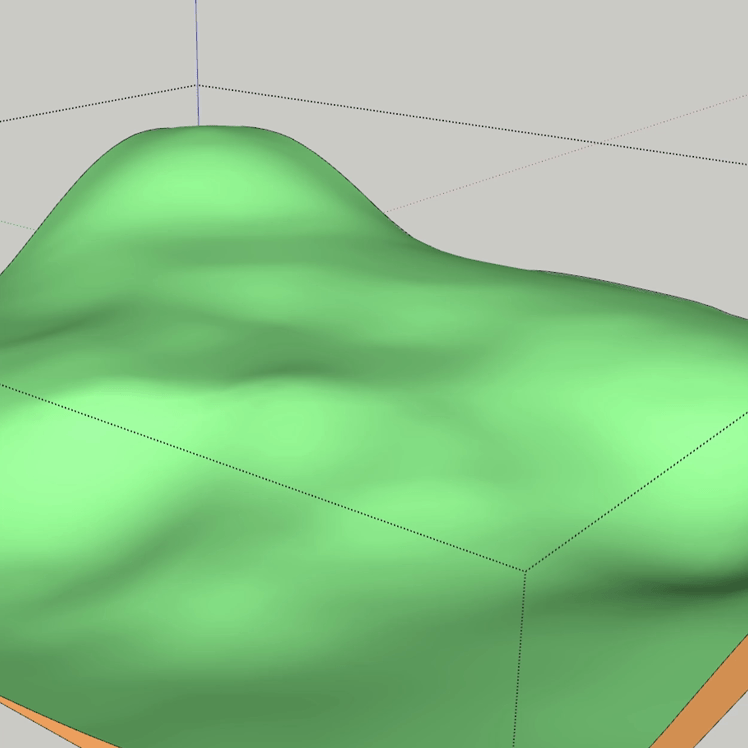 A far cry from the typical rectilinear forms for which SketchUp is most well-known; this SketchUp plugin allows users to create and edit organic, free-form models such as terrain, furniture, fabrics and much more.
You can sculpt, smooth, flatten, inflate or pinch your quadmesh geometry to mould it into any forms that you could imagine!
When modelling the terrain on each of our projects, we usually begin by importing the contour lines into SketchUp as a CAD drawing, and then using TopoShaper to create a quadmesh to allow us to create the existing topography.
We then use Artisan to edit the newly-created topography quadmesh by flattening, sculpting and smoothing areas to conform with the desired form of the surrounding landscape. This is why it definitely features within our Top 5 SketchUp plugins.
Artisan is our go-to tool to mould terrain.
Is there a free trial available?
Yes. Artisan offers a 15 day free trial.
How much does it cost?
A single, permanent license at the time of writing costs $29.00
SketchUp Plugin #2: Profile Builder
Profile builder is one of several SketchUp plugins that brings parametric modelling into the world of SketchUp.
Parametric modelling enables you to build and design using a series of rules and constraints, allowing you to automate repetitive occurrences of specific components within your scene.
Create assemblies using Profile Builder and add these to multiple locations within your model at a click of a button.
Let's look at a simple fence, for example.
This fence is made up of several components – vertical posts, panels, horizontal beams, etc.
Once you create or load a parametric assembly using Profile Builder, you have the ability to add these very easily all over your model.
We use this specifically when modelling fences, pathways, rainwater pipes and much, much more. What we love about this is that you can save out your assemblies for later use – or simply download one of the many assemblies from their library. The possibilities are endless!
The cornice detailing and panelling within this room was created using Profile Builder.
This amazing SketchUp plugin has saved us countless hours over the years, and they also have an incredibly informative official training course available to view on YouTube for free – what's not to love!
If you would rather learn how to use this SketchUp plugin (or others listed here) from a person, take a look at our bespoke Top-Up courses. In a 1-1 setting, these allow us to really focus on how to use plugins that are directly relevant to you.
Is there a free trial available?
Yes. A trial for Profile Builder 3 lasts for 30 days
How much does it cost?
A single commercial license at the time of writing costs $79.00
SketchUp Plugin #3: Laubwerk
Laubwerk offers an expansive library of SketchUp & V-Ray-ready 3D vegetation models where the worlds of botany and 3D modelling overlap.
Using their intuitive Plant Library Browser, simply select the desired species, and then chose where to place it within the scene.
Each plant comes with 3x shape variations, with each of these then having 3x age variations – totalling 9x different models of the same species of trees.
You also have the freedom to adjust the leaf density of each plant, and our favourite feature – to change the season!
Laubwerk's plant kits are the most versatile tool in our vegetation arsenal, and we look forward to seeing what they achieve over the next few years as they expand their offering!
We have relied on the quality of Laubwerk's plant kits for years, and it was our absolute pleasure to host them as guest speakers on our webinar in June of 2021 where we looked at how to create realistic vegetation. We wrote a blog about the collaboration here – take a look if you are looking to improve the quality of your vegetation work!
Is there a free trial available?
Yes. Laubwerk offer a free plant kit with no time limit.
How much does it cost?
Laubwerk's vegetation models come in 'plant kits' which are installed and loaded into your Laubwerk Library within SketchUp. For info on their pricing, head over to their store!
SketchUp Plugin #4: Skatter
Whenever we add vegetation to our models, there is one SketchUp plugin that we turn to… Skatter.
Besides offering a library of high-quality vegetation and landscaping assets, Skatter allows you to create parametric assemblies that control and refine the distribution of your vegetation models in any number of ways.
It is our pleasure to welcome Thomas Hauchecorne, the founder of Skatter, with us on our upcoming webinar where we talk about how we create exterior landscapes here at Archilime. Join us for an advanced demonstration of this incredible plugin on Thursday 7th October at 14:30 (UK Time) – sign up here.
Is there a free trial available?
Yes. A trial for Skatter lasts for 15 days
How much does it cost?
A single commercial license costs at the time of writing $99.00 + VAT(Tax)
SketchUp Plugin #5: V-Ray
V-Ray completes this list as arguably the most influential plugin that we use on a daily basis.
Over the years, V-Ray has been a constant for those of us at Archilime and also those of you in the wider visualisation community.
Available as a plugin for SketchUp, 3DS Max, Rhino, and many more – V-Ray is the gold-standard rendering plugin on the market.
Every still CGI ever produced by Archilime over the years was made using V-Ray for SketchUp.
You can also buy your V-Ray licenses from us.
Is there a free trial available?
Yes. A trial of V-Ray Premium lasts for 30 days
How much does it cost?
A V-Ray Premium license at the time of writing (March 2023) costs £538.80 annually or £89.90 per month (Please note for UK residents that this does not include VAT)
A V-Ray Solo license at the time of writing (March 2023) costs £358.80 annually or £59.90 per month (Please note for UK residents that this does not include VAT)
You can find more info here.
Next steps
Now that you have our recommendations – go out there and get your hands on those free trials!
Do you have any questions? What plugins do you feel should be on this list? Want to show us how you use any of these plugins?
Check out our contact page for more info on how to get in touch – we would love to hear from you!
Unfortunately, we do not have the time to list out every amazing plugin that we use here at Archilime, but join our mailing list for more in-depth technical content, where we will be featuring more plugins in the future!